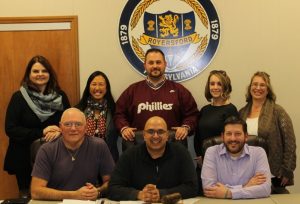 Mayor
The Mayor is elected for a four year term and has oversight responsibility of the Police Department. The Mayor does not vote on council actions except in cases to break a tie but does have veto power over Council decisions and on budget ordinances.
Jenna Antoniewicz
300 Main Street
Royersford, PA 19468
610-948-3737 Ext. 3000
jantoniewicz@royersfordborough.org
Borough Council
The Royersford Borough Council is comprised of seven members, elected at large. Members are elected to four year staggered terms. The Council appoints the members of the various boards, commissions and authorities within the borough, and the Borough Manager. They are vested with the legislative and executive powers of the Borough and are responsible for the annual budget. Council meetings are held the second and last Tuesday of every month at Borough Hall, 300 Main Street at 7:15 p.m.
2018 Borough Council Meetings
January 2 – Reorganization (Held @ Royersford Fire Dept.,Walnut St.)
January 9, 30
February 13, 27
March 13, 27
April 10, 24
May 8, 29
June 12, 26
July 10, 31 (The meeting for 7/31 has been cancelled)
August 14, 28
September 11, 25
October 9, 30
November 13, 27
December 11, 26
All Meetings start at 7:15 PM except where noted.
Council:
Anil Dham, President
Matthew Stehman, Vice President
Amy Demchik
Alexandra Metricarti
Joseph Moskal
Tiffany Moyer
Thomas Weikel